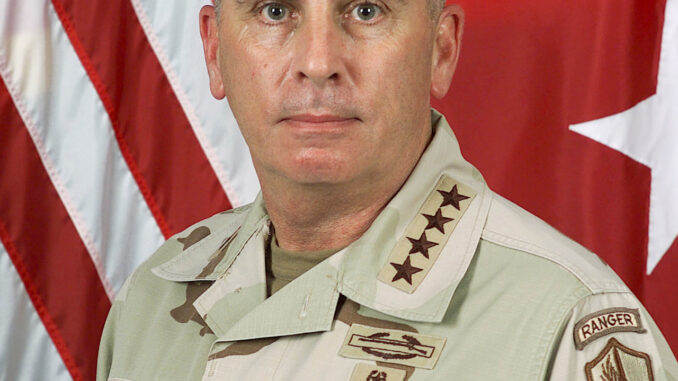 John Abizaid, General CENTCOM Commander
John Philip Abizaid (born April 1, 1951) is a retired United States Army general and former U.S. Central Command (CENTCOM) commander, overseeing American military operations in a 27-country region, from the Horn of Africa, the Arabian Peninsula, to South and Central Asia, covering much of the Middle East. CENTCOM oversees 250,000 US troops. Abizaid succeeded General Tommy Franks as Commander, USCENTCOM, on July 7, 2003, and was also elevated to the rank of four-star general the same week. He was succeeded by Admiral William J. Fallon on March 16, 2007.
Abizaid retired from the military on May 1, 2007 after 34 years of service. As of 2007, Abizaid is employed as a fellow of the Hoover Institution at Stanford University. He assumed the Distinguished Chair of the Combating Terrorism Center at West Point in December 2007. Abizaid was appointed to the board of directors of RPM International on January 24, 2008, and also sits on the board of directors of the Defense Ventures Group. In 2008 he was selected as a Montgomery Fellow at Dartmouth College.
On November 13, 2018, he was nominated as the U.S. Ambassador to Saudi Arabia.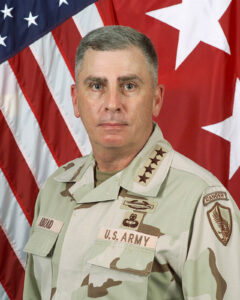 A Lebanese American, Abizaid was born in northern California in 1951, and raised in Coleville, California. Abizaid was a 1969 graduate of Coleville High School. His grandparents had immigrated to California from Lebanon during the late 19th century. He was raised Roman Catholic. His father, a Navy machinist in World War II, raised him after Abizaid's mother died of cancer.
Abizaid's military education includes the United States Military Academy (USMA) at West Point, New York (Class of 1973); Infantry Officer Basic and Advanced courses, Armed Forces Staff College, and a U.S. Army War College Senior Fellowship at the Hoover Institution, Stanford University.
In his civilian studies, he earned a Master of Arts degree in Middle Eastern Studies at Harvard University, and was an Olmsted Scholar at the University of Jordan in Amman, Jordan. Abizaid greatly impressed his teachers at Harvard University. Nadav Safran, the director of the Harvard Center for Middle Eastern Studies kept Abizaid's 100-page paper on defense policy for Saudi Arabia, the only paper of a master's student he has kept, saying, "It was absolutely the best seminar paper I ever got in my 30-plus years at Harvard.
Abizaid was commissioned a second lieutenant of infantry upon graduation from the United States Military Academy at West Point, New York, Class of June 1973. He started his career with the 504th Parachute Infantry Regiment, 82nd Airborne Division at Fort Bragg, North Carolina, where he served as a rifle and scout platoon leader. He commanded companies in the 2nd and 1st Ranger Battalions, leading a Ranger Rifle Company during the invasion of Grenada. In 1983, he jumped from an MC-130 onto a landing strip in Grenada and ordered one of his Rangers to drive a bulldozer like a tank toward Cuban troops as he advanced behind it—a move highlighted in the 1986 Clint Eastwood film, Heartbreak Ridge.
Abizaid commanded the 3rd Battalion, 325th Airborne Regiment Comba Team in Vicenza, Italy, during the Persian Gulf War and deployed with the battalion in Northern Iraq to provide a safe haven for the Kurds.
His brigade command was the 504th Parachute Infantry Regiment of the 82nd Airborne Division. He served as the Assistant Division Commander, 1st Armored Division, in Bosnia-Herzegovina. Following that tour, he served as the 66th Commandant at the United States Military Academy at West Point. At West Point, he reined in hazing rituals and revamped the curriculum. Later, he took command of the 1st Infantry Division, the "Big Red One," in Würzburg, Germany, from David L. Grange, which provided the first U.S. ground forces into Kosovo. He served as the Deputy Commander (Forward), Combined Forces Command, U.S. Central Command during Operation Iraqi Freedom.
Staff assignments include a tour with the United Nations as Operations Officer (G-3) for Observer Group Lebanon and a tour in the Office of the Chief of Staff of the U.S. Army. European staff tours include assignments in both the Southern European Task Force and Headquarters, U.S. Army Europe. Abizaid also served as Executive Assistant to the Chairman of the Joint Chiefs of Staff, Director of Strategic Plans and Policy (J-5) on the Joint Staff and Director of the Joint Staff.
Following the Iraq War and the overthrow of Saddam Hussein, he assumed command of Central Command from General Tommy Franks.
On December 20, 2006, it was announced that Abizaid would step down from his position and retire in March 2007. He had planned to retire earlier but stayed at the urging of Donald Rumsfeld. On March 16, 2007, Abizaid transferred command to Admiral William J. Fallon, after serving longer as Commander, U.S. Central Command than any of his predecessors.
On September 8, 2016, Abizaid was appointed an advisor to Ukrainian Defense Minister Stepan Poltorak by Secretary of Defense Ash Carter.
(Bio courtesy of Wikipedia)
This post has already been read 1866 times!