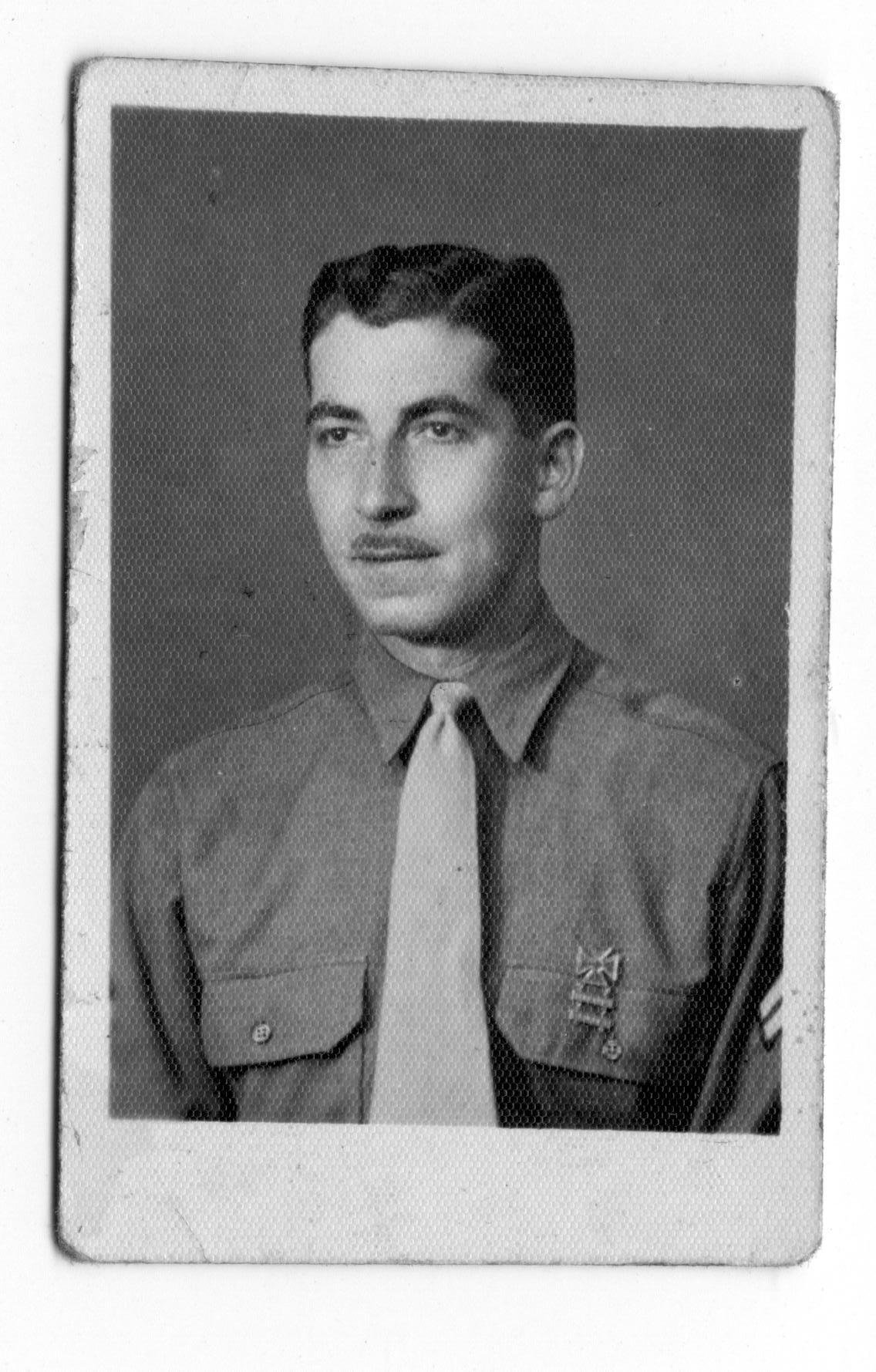 George John Hanania, US 5th Army WWII OSS
George John Hanania was born in Jerusalem on Nov. 11, 1901. He was one of the first Arab Americans to immigrate and settle in Chicago, in the mid-1920s. He followed his brother, Mousa (Moses) who had settled in Chicago around 1922.
His father, Hanna Mousa (John Moses) Hanania, lived in the Romema Quarter of Old Jerusalem on Jaffa Road. Hanna Mousa worked as a traveling salesman and sold goods at the Centennial Celebration in New York and at the 1893 Columbian Exposition in Chicago. Most of his recent trips, though, were to Cairo, Egypt. His wife was Katreena Jyries Cattan. George had five brothers, two older brothers, Yusef (Joseph) and Mousa (Moses), and three younger brothers, Khamis, Farid and Edward. He had two sisters, Ellen and Helen. The family was related to Jyries Hanania, the founder of Al-Quds newspaper in the mid-19th Century and to Judge Hanania Hanania, a Palestinian Magistrate in Jerusalem.
George obtained a typical education as a Palestinian Arab. He attended the Ratisbon's School (1912-1914), and then the American Mission School (1915-1917). He also attended Eccles des Freres and then St. George High schools (1914-1920). He entered college in 1923 attending the Palestine Patriarchal University (1923-1926) where he began his studies of law. Because of the influence of the British and their control of Palestine through a "Mandate," the English language was taught as a second language to nearly all Palestinian Arabs. French was the second most popular language taught in schools supported by Christian missions from the West.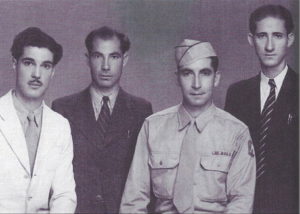 Yusef and George worked at the Jerusalem Post Office. George was a Postal Clerk Grade V Posts and Telegraphs, employed from June 23, 1920 until August 31, 1926. If his birth certificate is correct (being born in 1901) George would have been 18 years old when he started at the British Government Postal Service.
Yusef was able to secure a fulltime position working in the Jerusalem Post Office, and he was able to help his brother George obtain part-time work there, too. There is correspondence between George and the Director of the Government of Palestine in charge of various employment positions indicating efforts were made to secure jobs for other members of the family, but to no avail.
Four specific events, most dealing with the poor employment conditions in Palestine in the mid-1920s, influenced the decision by George Hanania to leave Palestine and immigrate to the United States.
George's brother Yusef drowned at the Jerusalem Quarry in April 1926, at a time when Arab and Jewish relations were simmering politically. Jewish, Muslim and Christian by-standers hearing Yusef's cries for help did not respond. Jews thought he was Muslim. Muslims thought he was Jewish. Christians thought he was not Christian. The event typified the growing animosity that existed in Palestine between Arabs and Jews who had conflicting interests there. Deteriorating relations between Jews and Arabs culminated in riots in 1929 and again in 1936 when Arabs protested British policies favoring large immigration quotas for European Jews.
George's older brother, Mousa, had already left Palestine to come to the United States several years earlier. Mousa found full time work as a cook in a suburb of Chicago at the Rolling Green Country Club, located in Arlington Heights. A short newspaper article published at the time reported that the country club had been robbed and that a significant amount of money had been taken from the employees, including Mousa, who lost some $800, a sizeable amount of money back then indicating that he was doing very well financially.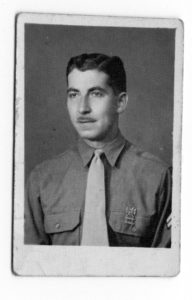 After Yusef's death, George and his siblings found it difficult to obtain work. George, who was working part-time, tried to find another position with the British Mandate government for himself and for his sister, Ellen. Applications he had submitted to the Department of Health were turned down. His sister, Ellen, also tried and failed to find work.
Finally, George discovered that the British Mandate Government supervisors at the Jerusalem Post Office did not encourage his efforts to complete his education and they either refused or could not accommodate his need for a change in working hours. A request he made to alter his hours or receive permission to be absent from work specifically to attend Law College classes was turned down by his supervisor at the Post Office.
George decided to join his brother, Mousa, in the New World, America, "the land of the free." He was given a Laisser Passer document that permitted his immigration to the United States. It was his only document that identified him as a Palestinian.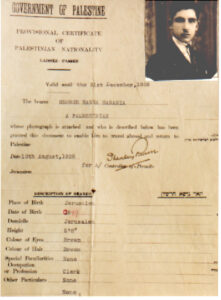 George arrived in New York City on October 4, 1926, arriving on board the S.S. Sinaea passenger ship, under the raised arm of the Statue of Liberty. He always recalled it as an inspiring site. He quickly took a train and arrived in Chicago's Union Station where he was met by his brother. The month long trip was trying and expensive, requiring him to spend much of his savings earned working in Jerusalem. Aboard the ship were many other immigrants, Arabs and Jews.
While in the United States, between 1926 and 1929, George worked at the Fenske Brothers Center (on North Clybourne), the Astor Street Theater and the LaSalle Street Theater. Eventually, he secured a decent paying job at the Rolling Green Country Club, in Arlington Heights, where he worked with his brother, Mousa. They worked together from 1930 through 1940. In 1934, George was granted naturalization and awarded his US citizenship.
Sometime after World War II broke out with the Japanese attack on Pearl Harbor on December 7, 1941, both he and his brother enlisted in military service. George had just started a job as an accountant at the Sinclair Oil Company in early 1941 and the company was supportive of employees who left their jobs to serve in the military.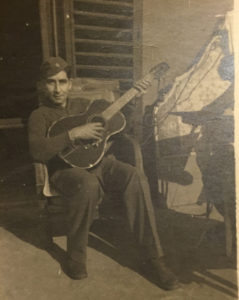 Mousa entered the US Navy. George entered the US 5th Army, and was assigned to the Office of Strategic Services (OSS, which was the precursor to the CIA). George was assigned to manage communications and telegraphs, something he learned to do at the Jerusalem Post Office. He also served as an interpreter. While in active duty, George traveled throughout Europe, returning several times to visit with his mother in Jerusalem, Palestine. Apparently, it was either in the late 30s or 1940s, while he was in the United States, that his father died. During the war, he left extensive writings on his experiences in the service, describing the places he visited in both letters to his brother and sisters, and also to his fiancée, Walbert Mueller, an American woman who was also serving in the Army at the time when they met.
George was discharged honorably in 1945. The following year, he married his sweetheart, Walbert "Wally" Mueller. They were married in a double ceremony with "Wally's" brother, Clinton, and his fiancée. Their first year anniversary celebration was reported in the local Arlington Heights newspaper, the Herald.
You might imagine the terrible conflict he had in his mind. On the one hand, he fought to liberate Europe and to free the Jews, who were the target of Nazi hatred. On the other hand, the Jews who were saved from the Nazis as a result of the American led effort to combat Germany during the war, sought to take over Palestine as their "homeland." This personal conflict increased after his marriage and with the birth of his first son, John George, named after his father and carrying the father's name as a middle name, a tradition of many Christian Arabs in Palestine.
On Dec. 24, 1947, Christmas Eve, Walbert gave birth to a son, John George Hanania. John was named in the practice and tradition of the Orthodox Christian Church. As the first son, he was named after his grandfather, Hanna (John), and was given the name of his father, George, as his middle name. It was supposed to be a joyous occasion. But Walbert experienced trouble during the childbirth and she died immediately after her son, John, was born. It is unclear whether she ever saw her son whom George was left to raise on his own.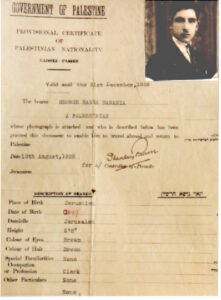 George had lived at several locations in Chicago, including 2100 North Clybourne (1926), 924 W. Lawrence Avenue (1938), 916 Eastwood (1942), 1530 East 87th Street (1944), and 848 Wellington (1948).
In early 1952, George was encouraged by his sisters and brothers, who he helped immigrate and settle in Chicago, too, to take a trip back home to Jerusalem Palestine where he was introduced to a man who knew a family in Bethlehem. The family had a young daughter, the eldest of four sisters, 19 years old. Her father was a tailor.
George was escorted to the home of Saba Kronfil and his wife, Regina Dabdoub, where he was introduced to their daughter, Georgette. They were married on June 1, 1952 and they spent a month traveling in Colombia, South America visiting other relatives who had left Palestine, too. In the photo above, Georgette is pictured leaning a large water container into the Bethlehem Well to bring water to the family.
They returned to Chicago and purchased their first home together, at 9905 S. Forest Avenue. In 1960, they moved to 8928 S. Luella Avenue, where they lived until 1968. At that time, they purchased a small home in the Southwest Suburbs, Burbank, which was beginning to see a rise in Arab families.
Like many Christian Arab families, George and Georgette were very religious but they did not have access to an Orthodox Church where they could worship in those early years, or where they could send their children. At first, we were sent to a Baptist Church on Stony Island Avenue, where we attended Sunday worship to the shrill cries of the Baptist Minister who led his congregation in devote prayer and confession. That's where we were baptized.
Later, at the urging of an uncle, Assad Shorrosh, we were registered at Bethany Lutheran Church at 95th and Chappel, near our home. Assad had married Georgette's sister, Lillian, also an arranged marriage. He had been raised Lutheran in Palestine and attended Protestant missionary schools in his youth. Sometime in the mid-60s, they learned of a new Orthodox Church that had opened on Chicago's North Suburbs, in Oak Park. Although we were confirmed as Lutherans, we would accompany our parents to the Orthodox Church that they preferred because the pastor conducted the service in Arabic.
George Hanania died in August 1970. He was buried at the South Side's historic cemetery Oak Woods, next to the body of Mousa and his mother, Katreena. Buried with him today at the same cemetery  are such famous personalities as Chicago Mayors Harold Washington and William Hale Thompson, mobster Big Jim Colosimo, physicist Enrico Fermi, and Olympian Jesse Owens. The cemetery also has a monument to the 6,000 Confederate prisoners of war who died at Camp Douglas.
Georgette Hanania died 15 years later in July 1985. She is buried in the Evergreen Park Cemetery.
This post has already been read 1580 times!