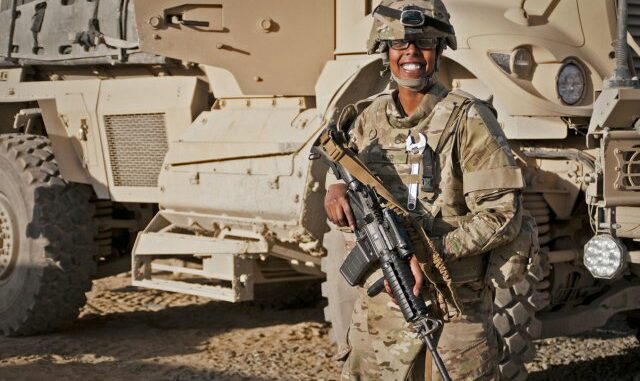 Arab medic spends her career mending fellow Soldiers, preconceptions
(Profile published by the U,.S. Army. By Sgt. Ken Scar)
PARWAN PROVINCE, Afghanistan (Sept. 13, 2012) — Staff Sgt. Muna Nur leaves a lasting impression on those who meet her. Born in Somalia, her feisty attitude is a testament to her six-year military career that includes two tough deployments to Iraq and a third, current one to Afghanistan, where she is the noncommissioned officer in charge of the Troop Medical Clinic, 10th Sustainment Brigade, Task Force Muleskinner.
"I was born in Somalia, so I'm a child of war, I guess," she said. "When I was 2 months old, because of the war, my mom moved us to Kenya until I was 5, and then to America, where we finally settled in Minnesota. I consider myself an American, even though I wasn't born there."
On a typical shift in the walk-in clinic on Bagram Airfield that she manages when she's not on missions outside the wire, she can be seen ribbing her medics good-naturedly like a stern mother.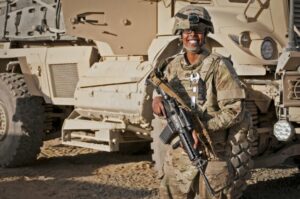 "I run a tight ship," she said, furrowing her brow toward everyone in the waiting area to light-hearted laughter.
Nur has worked her way to a position that suits her well, but things have not always run so smoothly for her.
She is a proud Muslim, a trait that has created difficulties for her in the past — especially after 9/11.
"9/11 created such an awkward position for my family," she said. "My mom is not totally religious, but she wears the scarves over her head, and she is very fair-skinned, so she looks Arab. I just remember all the comments."
She trails off, hesitant to get too specific and dredge up old wounds.
"I said to myself, 'Do I want people to think my family is full of terrorists?," she recalled. "Do I want people to view my religion like we're all terrorists?' I wanted to fight back, so that's one of the main reasons I joined (the Army)."
The decision to become a medic was a simpler one: "I wanted to help people."
Being female and a Muslim could have been a double-whammy for someone joining the Army, whose population is historically composed mostly of men and Soldiers who believe in some form of Christianity, but the discrimination she experienced in the civilian world was much worse than what she has experienced as a Soldier.
She credits the Army's emphasis on cultural training for that.
"I think the majority of Soldiers are trained to differentiate between terrorists and what Islam is," she said.
That's not to say she has never heard inconsiderate comments, but as a medic who is often the only female out on a mission, she knows how to brush off the harsh words and posturing of some her less-sensitive colleagues.
"My first tour of Iraq was very difficult for me," she said. "Treating Soldiers who just got hit, I heard the backlash, but now I don't take it as an attack against Muslims in general — or me. I take it as an attack against terrorists."
Dealing with traditional Afghan prejudices is another thing she has learned to deal with gracefully.
"Most (Afghans) are illiterate," she explained. "They don't read the Quran. It's taught to them. So for me, as a Muslim woman who reads the Quran and has my own interpretation, it can be a battle."
"You have to have a thick skin," she added, smiling. "You have to know what right looks like and be tolerant. You can't go around telling people their religion is wrong or they believe in false prophets. How would you feel if I condemned you to hell because you're not a Muslim? I don't believe in that."
"More than anything, she educates us," explained Air Force Senior Airman Natasha Whitten, one of Nur's medics. "Like when the Qurans were burned (in February), she let us know why people were so upset and what would have been (the proper thing to do)."
As far as being a female in a war zone, Nur marvels at the fact there is any debate at all that she or any of her female comrades belong in combat.
Every medic in her unit rotates from working in the clinic to rolling with combat logistical patrols that travel to smaller combat outposts and bases all over Regional Command-East on the most dangerous roadways in theater. Out of the 42 medics for whom she is responsible, 10 of them are female.
"If we took all our females off the road, the missions wouldn't happen," she said.
She personally goes on an average of three missions per month, so she will likely rack up nearly 50 missions outside the wire on her current deployment.
"She is dedicated to what she does," said Sgt. Maj. Janice Glaze, operations sergeant major for Task Force Muleskinner. "She really has concern for Soldiers, and I would speak to her courage. As a medic, she treats the Soldiers (who) encounter improvised explosive devices. She sees the wounds, so she knows what can happen when you go outside that wire — and yet she is never hesitant to go on those missions."
"Once you're outside the wire, anything can happen," Nur said. "I want the world to know that my medics go out there and have to be combat Soldiers, whether they're male or female."
"When you go out (on the convoys), there's no separation. We all sleep in the same tents, or the same trucks," she said."
"We are already in combat," said Air Force Staff Sgt. Anahi Pelayo, also one of Nur's medics, referring to the debate over whether women should be in combat positions. "We (female medics) are not necessarily behind the weapons, but we take care of everyone else (who) is."
"I love the action, and I love being out. But I always say that I like to stay unemployed on missions," Nur said.
This post has already been read 1797 times!